Our family wishes to express our sorrow for the tragedy in New york, Washington and Pennsylvania. There are not enough words to express our feelings, the loss of lives and break up of families is tremendous. Our thoughts are with the thousands of families who have lost loved ones.
In memoriam:
Ed Richter
Ed Richter was the life , the knowledge, and dedication behind 600 Racing West. He was there with answers if drivers had them, and made sure the parts were there to repair the cars. His knowledge covered a broad spectrum of things, his dedication to racin had no boundaries.
Ed passed away in November 2003,to a sickness he could not repair, nor had he the spare parts to fix it. He took it valiantly and never failed a race till the end. Ed will be with us all, he will be our co-driver for the seasons to come, we miss you Ed richter.
RANDY BROWN 2002 Mechanix Wear trucks Champion.
Randy passed away from injuries sustained in a snowboarding accident on 12/24
In memory of
CHRIS TRICKLE
5/30/1972 - 3/25/1998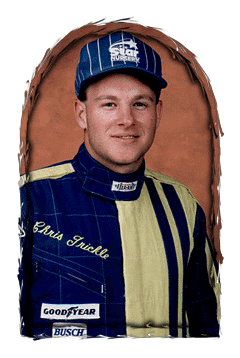 Born May 30th, 1972, Chris demonstrated an aptitude for racing competition at an early age. Chris began competing in motocross races at the age of 8 on a 60cc motorcycle and continued competing on 125cc motorcycles until age 17.

During those years he participated in all major races open to amateurs. In 1987, Chris was 2nd in the 125cc class at the World Mini Championships. He was track champion at Las Vegas Motocross Park in 1988. At the age of 15, he was World Mini Champion in the 250cc division. The following year he moved to the Pro Division and competed in Supercross events in such cities as Seattle, Los Angeles, San Diego, Anaheim, Oklahoma City, Houston and Las Vegas.

In 1990, Chris moved from motorcycles to stock cars. His father, Chuck Trickle, who had previously raced off-road vehicles, had been racing in the Hobby Stock Division at Las Vegas Speedway Park. Chuck's brother, Dick Trickle, has been racing the NASCAR Winston Cup Series and that is what Chris' ultimate dream would be.

Since his first year racing stock cars, Chris had progressed to NASCARS SouthWest Tour Division. At his home track in Las Vegas he was Rookie Of The Year in Hobby Stock, Sportsman Light and Sportsman Division. He had raced and won at tracks in other Western States such as California and Arizona. During the 1994 -1995 season Chris held an incredible record in top 5 finishes.

In 1996 he competed in the NASCAR Southwest Tour, recording one win and nine top-10 finishes in his blue No. 70 Chevy Lumina, sponsored by Star Nursery. His win came in the final event at the old Las Vegas Speedway Park in November 1996. Fellow drivers voted him the tour's most popular driver.

Unfortunately things changed as he was driving his Chrysler convertible over the Blue Diamond Overpass just south of Las Vegas Boulevard on february 10 1997. Chris was shot in the head by an unknown assailant and crashed his car into a sign. Even though Chris Trickle case was widely publicized including segments on America's Most Wanted, the killer has never been found. Chris remained in a coma for most of 1997, by december 1st Chris had returned home from the Hospital, and nearly a year after the shooting Trickle appeared at a benefit at the santa Fe Hotel and casino. In March things turned for the worse and on March 25 1998, the promising driver named Chris Trickle succumbed to his injuries.
His father Chuck Trickle carries on the torch for his fallen son at every race at the Bullring. Chris Trickle will never be forgotten.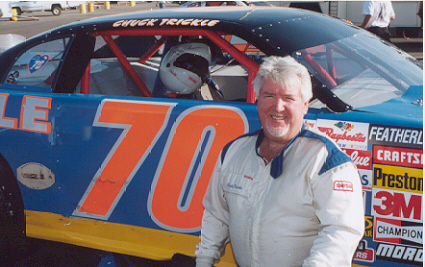 A fathers dedicates his racing career for his fallen son.
Chuck Trickle dedicates his days to race for the memory of his late son Chris Trickle. When he signs a picture when the pit gates swing open and thousands of fans pour in to see the drivers, it shows a little picture of him, but most of the images show his son at the peak of his racing career, driving for Star Nursery. Chuck will go even further and as he signs the picture it will say "Chuck Trickle for Chris 70". Chuck hopes to keep his sons memory alive and that his killer will be found...soon.
Chuck drives his sons car at the Bullring, and without a doubt the most popular driver on the track.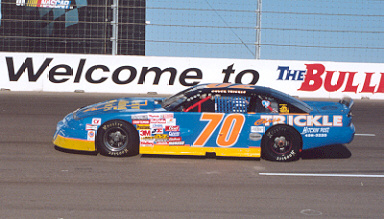 Randy won all but one race at the Bullring in 2002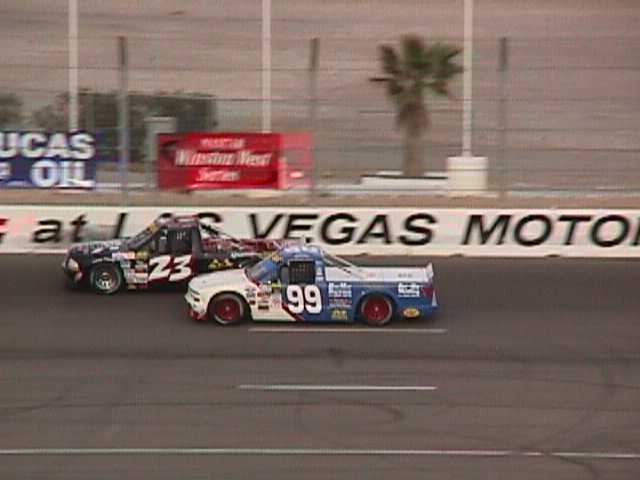 Here the #99 truck seen battling Spencer Clark
RANDY BROWN, 2002 MECHANIX WEAR SPEED TRUCK CHALLENGE CHAMPION DIES AT 19


Source: Jay Rutherford
West Covina, California....December 26th, 2002....Randy Brown sustained massive head injuries from a snow-boarding accident at Mountain High Ski Resort last Tuesday morning, December 24th. Randy was air-lifted to Arrowhead Hospital in Colton, California in very critical condition and was placed on life support systems until last night at 8:34 PM, December 25th. This morning, December 26th at 8:56 AM, Randy passed away.
Randy is survived by his sister Wendy, his father Bob, and his grandmother Barbara. Please continue with your thoughts and prayers for Randy's family members. Memorial services are being planned and we will notify of same.
The Randy Brown Memorial Fund has been established to help the family with final expenses and donations can be made to Randy's grandmother at the following address:
Barbara Brown
1910 West Corak Street
West Covina, CA 91790
Our Champion will be missed!
A few words about Randy Brown.
He always smiled, and he was one of the cleanest driving, and most courteous on and off the track. When he kept winning race after race this 2002 season it could not happen to a nicer person. Randy Brown was young (19)and had a brilliant carreer ahead of him. His wins this season gave him the Mechanix Wear Speed trucks championship for 2002, and he would have been without a doubt a contender in 2003. Like any driver he was not afraid behind the wheel of his #99 Truck, he enjoyed xtreme games, and snowboarding was his winter escape in the off season. He made a nasty spill the day before Christmas, and remained on life support till this AM. Life is unpredictable, the champion will be missed. Randy brown your smile is engraved in our minds.
Peter and Kyle Huender